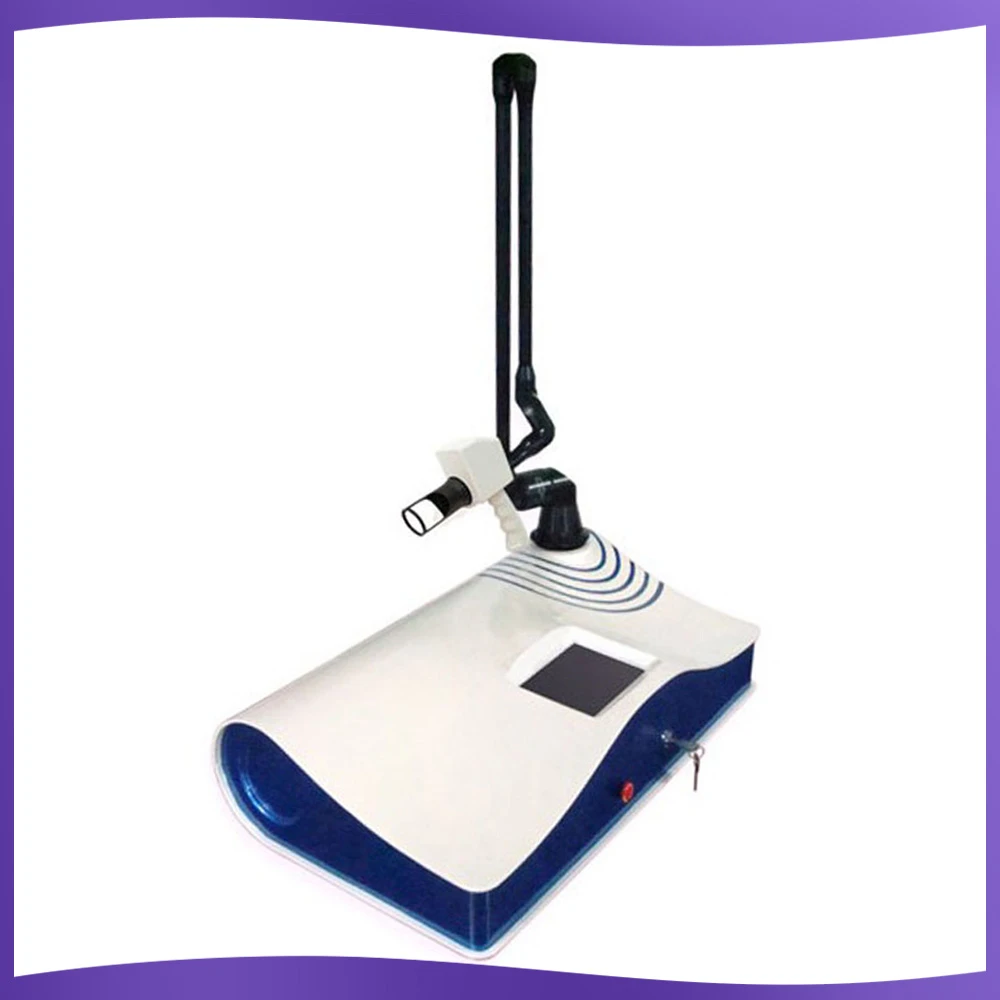 Therapy Principle
Fractional laser treatment works by targeting both the epidermis and dermis. It does this by delivering a laser beam that is divided into thousands of tiny but deep columns of treatment into the skin. These are called microthermal treatment zones (MTZs). Within each MTZ old epidermal pigmented cells are expelled and penetration of collagen in the dermis causes a reaction that leads to collagen remodeling and new collagen formation. By using MTZs, the laser targets and treats intensively within the zone whilst surrounding healthy tissue remain intact and unaffected. This fractional treatment results in a faster healing process than if all tissue in the treatment area was exposed to the laser.

Features
Independently developed TEMoo mode laser tube
Discrete scanning technology
Smart variable treatment graphics
Magic, single, repeat pulse and CW operation modes
Power-on self-test, automatic failure alarm, and diagnosis

Applications
Scar removal
Wrinkles reduction or removal (face, forehead, around lips, neck)
Freckles or spots removal
Skin rejuvenation, eyelift, facelift, etc

Parameters
Wavelength: 10.6microns
Beam mode: TEM00
Power to tissue: 15W
Magic pulse peak power: 100W
Laser operation Modes: Fractional, Magic, Single, Repeat Pulse & CW
Aiming beam: 3mw
Beam delivery system: 7-joint spring-balanced articulated arm
Working radius: 130cm
Cooling system: Water Closed-cycle
Control System: LCD touch screen, footswitch
Warranty: 1 year
Working voltage: 230VAC/50Hz or 120VAC/60Hz
Scanner Technical Specification
Dot quantity: 1~10000 dots at most
Working mode: Fractional (Magic Pulse Technology)
Condenser focus: F=70mm
Spot size: Min: 0.15mm at the focus
The interval between 2 centers: 0/2~2mm
Scanner graphics: Square, rectangle, circle, and up to 9 kids
Duty time: 100us~10ms (adjustable)
Idle time: 0.01~1s
Treatment size: 20x20mm2 (adjustable)

Therapy Principle
Fractional laser treatment works by targeting both the epidermis and dermis. It does this by delivering a laser beam that is divided into thousands of tiny but deep columns of treatment into the skin. These are called microthermal treatment zones (MTZs). Within each MTZ old epidermal pigmented cells are expelled and penetration of collagen in the dermis causes a reaction that leads to collagen remodeling and new collagen formation. By using MTZs, the laser targets and treats intensively within the zone whilst surrounding healthy tissue remain intact and unaffected. This fractional treatment results in a faster healing process than if all tissue in the treatment area was exposed to the laser.
Features
Independently developed TEMoo mode laser tube
Discrete scanning technology
Smart variable treatment graphics
Magic, single, repeat pulse and CW operation modes
Power-on self-test, automatic failure alarm, and diagnosis
Applications
Scar removal
Wrinkles reduction or removal (face, forehead, around lips, neck)
Freckles or spots removal
Skin rejuvenation, eyelift, facelift, etc
Parameters
Wavelength: 10.6microns
Beam mode: TEM00
Power to tissue: 15W
Magic pulse peak power: 100W
Laser operation Modes: Fractional, Magic, Single, Repeat Pulse & CW
Aiming beam: 3mw
Beam delivery system: 7-joint spring-balanced articulated arm
Working radius: 130cm
Cooling system: Water Closed-cycle
Control System: LCD touch screen, footswitch
Warranty: 1 year
Working voltage: 230VAC/50Hz or 120VAC/60Hz
Scanner Technical Specification
Dot quantity: 1~10000 dots at most
Working mode: Fractional (Magic Pulse Technology)
Condenser focus: F=70mm
Spot size: Min: 0.15mm at the focus
The interval between 2 centers: 0/2~2mm
Scanner graphics: Square, rectangle, circle, and up to 9 kids
Duty time: 100us~10ms (adjustable)
Idle time: 0.01~1s
Treatment size: 20x20mm2 (adjustable)
Important Notice Regarding Your Safety and Well-being
At Mychway, your safety and satisfaction are our top priorities. As a supplier of advanced beauty equipment, we feel it is our duty to remind you of certain health precautions.
We note that some customers may have underlying health conditions, such as poor health or unhealthy internal organs, which may be affected by certain cosmetic treatments, leading to the onset of some illnesses.
While our machines are equipped with advanced safety features, we urge customers with these conditions to consult a healthcare professional before using our equipment.
Your health is important. We recommend that those with pre-existing health conditions seek medical advice to ensure our treatments are appropriate for their unique health conditions. Our team is here to help you and answer any questions you may have.
Thank you for your understanding and cooperation in this matter. By taking these precautions, our goal is to not only provide you with beauty solutions but also provide you with peace of mind.
If you have any questions or need more information, please feel free to contact us. Your safety is our commitment.
Call for help
If you like to talk to someone, you are welcome to call at 17722598734.
Email
If you only like typing, you can reach us through email at customerservice@mychway.com.
Whats APP
If you prefer a live chat, weclome to PM at WhatsApp 17722598734.
Address
RM1701A, Pengdu Mansion,126 Nanguang Rd, Nanshan,Shenzhen, Guangdong 518054 China
Business hours
Mon- Sat: 10:00 AM – 20:00 PM