The global non-invasive aesthetic treatment market was worth USD 61.2 billion in 2022 and is expected to increase at a compound annual growth rate (CAGR) of 15.40% between 2023 and 2030. Non-invasive aesthetic procedures have been increasingly popular in recent years, thanks to adults' increasing preoccupation with their outward appearance. Ultrasonic cavitation machines are popular due to their effectiveness in reducing fat and their non-invasive nature.
What is an ultrasonic cavitation machine treatment?
This treatment includes exerting pressure on fat cells using ultrasonic vibrations. The pressure is sufficient to convert the fat cells into a liquid state. The body can then eliminate it through urine as detritus. The broken-down fat cells travel from the body to the liver, where they are expelled as waste.
Ultrasonic cavitation machines are cutting-edge equipment used in non-invasive aesthetic treatments. They use ultrasonic waves to target and dissolve fat cells in specific body parts, providing a safe and effective alternative to standard surgical procedures like liposuction. Ultrasonic cavitation treatments can be used on various body parts, including the abdomen, thighs, buttocks, arms, and love handles.
Multiple sessions are often recommended to receive the best outcomes. You can expect to see your final results approximately three months after your last treatment session, but the rate at which they appear depends on how well your body's lymphatic system removes damaged cells.
A.ultrasonic cavitation fat reduction treatment for abdominal fat
Ultrasonic cavitation treatment and fat reduction offer the added benefit of collagen stimulation and skin tightening. The ultrasound waves used in the procedure penetrate deep into the skin layers, stimulating the production of collagen and elastin fibers. This increased collagen production promotes tighter, firmer skin, preventing sagging or loose skin often associated with fat loss.
The treatment process, typically ultrasonic cavitation treatment sessions, involves several steps. Firstly, the practitioner will apply a specialized gel to the treatment area to enhance the transmission of ultrasound waves; they will then use the handheld device to deliver the ultrasound waves, moving them in a circular motion across the abdomen. The duration of each session can vary, ranging from 30 to 60 minutes, depending on the individual needs or how intense the patient's body is.
After undergoing an ultrasonic cavitation treatment for abdominal fat, following your doctor's recommendations is important.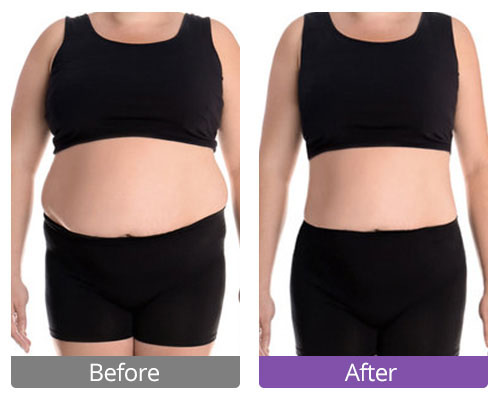 B. Ultrasonic cavitation shaping treatment of hip sagging
Hip sagging is a common aesthetic concern among older women as they age or experience weight fluctuations. Even though exercise and living healthy can help to some extent, some stubborn fat deposits and loose skin often remain unresponsive to traditional methods. Ultrasonic cavitation shaping treatment offers promising results in addressing hip sagging.
After this procedure, you may be advised to follow specific aftercare instructions, including maintaining a healthy diet, staying hydrated, and engaging in light physical activity. These recommendations aim to optimize the treatment results and support the body's natural healing processes.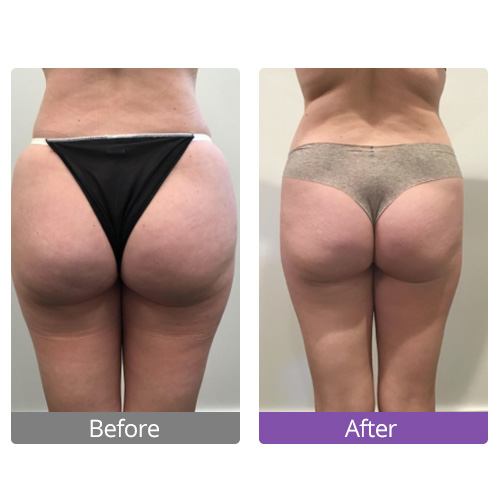 The ultrasonic cavitation machine reviews
1. According to a verified Amazon user from the United Kingdom who's used the Ultrasonic Cavitation Machine, 4 in-1 Body Shaping Machine Red Light EMS Sonic Vibrate Skin Tightening by myChway, and gave it a 5-star review had this to say about the product, "Cellulite on the front of my thighs and above my knees is my trouble. Yes, I have it on my rear and quadriceps, but who doesn't? My biggest problem was the front of my thighs, which you can't hide in shorts or dresses (I think people notice the backs of thighs more). I consume well but am a chocoholic, I work out and am slim in appearance, but this was really depressing. I began to investigate salon procedures and costs as a solution to the issue. Even though I'm well hydrated with tons of water and herbal teas, I still feel awful. Now that I'm 32, I must take control of this situation or never.
Tips:
- consume water before using this product. Then some more after. I'm referring to a few liters. Consider the water to be what makes this product function.
-Diet is essential, but who doesn't enjoy a treat?
-exercise is also evident; I'm discontinuing hormonal contraception! This may be the cause.
- eliminate as much as feasible and even spend a day in nature - Do not use scented products containing pollutants.

I use this thirty minutes once or twice per week. Not a substantial distinction, but there is a change. Rather than melting away the cellulite, it breaks it down so that water can be used to flush it out. My review is not about weight loss but rather cellulite. This product is doing something, or at the very least, is smoothing my complexion. Regardless, it makes me happy and encourages me to drink and eat healthily; otherwise, why would I use it? Try it. Go slowly in circles while applying additional pressure. Good success."
2. Another user, Aleksandra from the US gave the Ultrasonic Cavitation Machine, 4 in-1 Body Shaping Machine Red Light EMS Sonic Vibrate Skin Tightening by myChway, a 5-star review, "This is fantastic! Even though I've only been using it for a little over two weeks, it's already making a huge difference in the lower portion of my belly skin. My skin became more elastic and tight. And I've observed a reduction in my body fat, which is fantastic. It is also effective on the face! If you're looking to improve your skin's condition and reward yourself at the end of the day at the same time, this is the product for you. Excellent and comfortable design."
3. This user on Realself praised the Ultrasonic Cavitation procedure, "Overall, it's a pretty efficient technique that requires minimal downtime. I'm going with a non-surgical slimming procedure to avoid scarring. This is not for people who are really obese, but it is useful for typical people who have fat deposits. My midsection is always a source of concern for me. Following my initial treatment, I signed up for ten series. So far, I've completed three of them. I'm rather pleased with it. I'm looking forward to seeing the final outcome."
4. Sara Watkins, from the UK, who left a review, said that before her treatment, she had spent a fortune on creams and expensive treatments. She said, "This is the only remedy I've ever discovered that works. I've had 6 sessions, and there is a noticeable difference in my cellulite, which I had given up hope would ever happen. It gives me a lot more confidence for the swimsuit season! He'd rather be truthful with his clients than make money, which is unusual."
5. However, not every user was impressed with the device; this user gave it a 1-star, "I tried this product for several weeks and saw no improvement in any of the locations I put it on. A complete waste of money."
Overall, the positive reviews outweigh the negative, thus making it your go-to device for tummy reduction.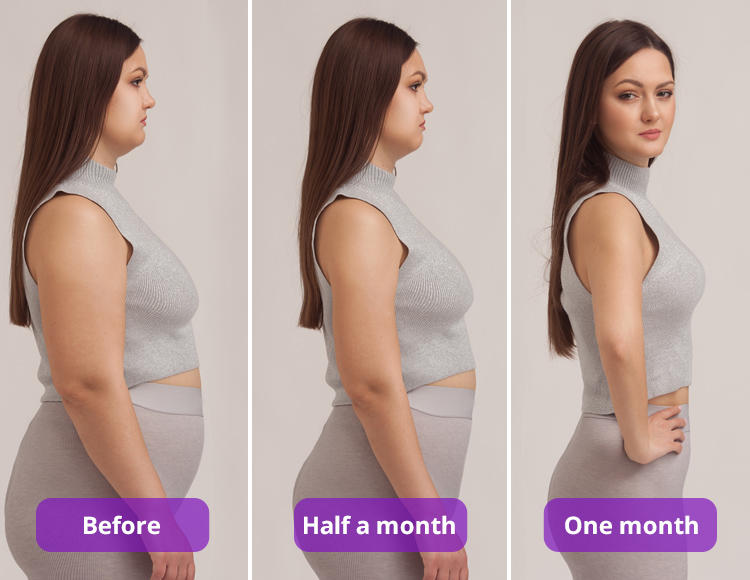 A. Professional ultrasonic cavitation machine reviews from medical beauty institutions
a. Bella Vida Aesthetics
Bella Vida Aesthetics & Wellness is located near the heart of downtown Miami. Bella Vida Aesthetic and Wellness is one of the many spas in Florida offering the ultrasonic cavitation procedure to women. According to the spa, cavitation effectively dissolves stubborn fats in the body without requiring injections or invasions. In fact, after this procedure, people typically witness remarkable reductions of 2-6 inches after undergoing this treatment.
b. Bodyvine Aesthetics
Bodyvine Aesthetics wellness spa attributes its success to the wonders of ultrasonic cavitation device, which helps them destroy fat cells without harming any other cells in the body. Areas of treatment dues include the abdomen, thighs, and flanks, known as love handles and upper arms. Pricing starts from $249.
c. LipoTherapeia Spa
LipoTherapeia Spa, located in the Chelsea Private Clinic, is the only aesthetic practice in London dedicated exclusively to skin tightening and cellulite. The spa introduces ultrasonic cavitation as a non-invasive and painless treatment that aims to sculpt and reshape the body by reducing localized fat deposits and improving skin texture. According to their experts, this procedure utilized low-frequency sound waves to disrupt the fat cells, it is painless and safe and their clients are happy with the results.Book a session for £345, 3 prepaid sessions at £330 x 3 = £990, 6 prepaid sessions: £300 x 6 = £1800, 12 prepaid sessions: £285 x 12 = £3420.
d. Beautology
Beautology is Bristol's top skin and laser clinic and a multi-award-winning aesthetics facility. "Most of our report a positive income, as they are able to lose fat mass and weight after several sessions."You can book a session for £75, 1 area for 20 minutes at £90, 2 areas for 40 minutes at £115, and 3 areas for 60 minutes at £135.
e. Heather Gordon Spa & Wellness
Heather Gordon Spa and Wellness have said that the ultrasound cavitation machine has brought in more clients for them because of its painless procedure and its pool of satisfied clients. Here, ultrasonic cavitation consultation costs $50, 30 minutes session is $95, and 60 minutes session is $150.
The above spas are for information purposes only and are not recommended by the author.
Efficacy of ultrasonic cavitation machines
a. The treatment effectively targets localized fat deposits leading to a significant reduction and reshaping of the area. Ultrasound fat cavitation can be utilized on almost any part of your body where you have excess weight. The abdomen, thighs, buttocks, and back are all common treatment areas.
b. The treatment stimulates collagen production, promoting skin tightening and improving skin texture and elasticity.
c. This treatment is a non-surgical procedure without inflicting any bodily harm.
d. You don't feel any pain during or following the treatment. At most, you will feel a gentle warming sensation as the ultrasound wand moves across your skin.
e. Each fat cavitation therapy session lasts about 20-60 minutes, making it an ideal midday treatment. There will be no downtime; your sole preparation will be to drink enough water.
f. Results are noticeable immediately, and you may notice a difference as soon as your first treatment.
g. The best outcomes can be seen in as little as three days. Depending on your body composition, you may require six to twelve treatments to attain your goals.
Product Recommendations
Here are some recommendations for ultrasonic cavitation machines with good reviews, they have excelled in the market and have been recognized by many users.
Highly rated home ultrasonic cavitation machine
The ARISTORM is a leading home-use ultrasonic cavitation machine for shaping and weight loss, providing you with a more balanced and natural slimming effect. The user-friendly interface and safety features allow you to enjoy the pleasure of body shaping in your home.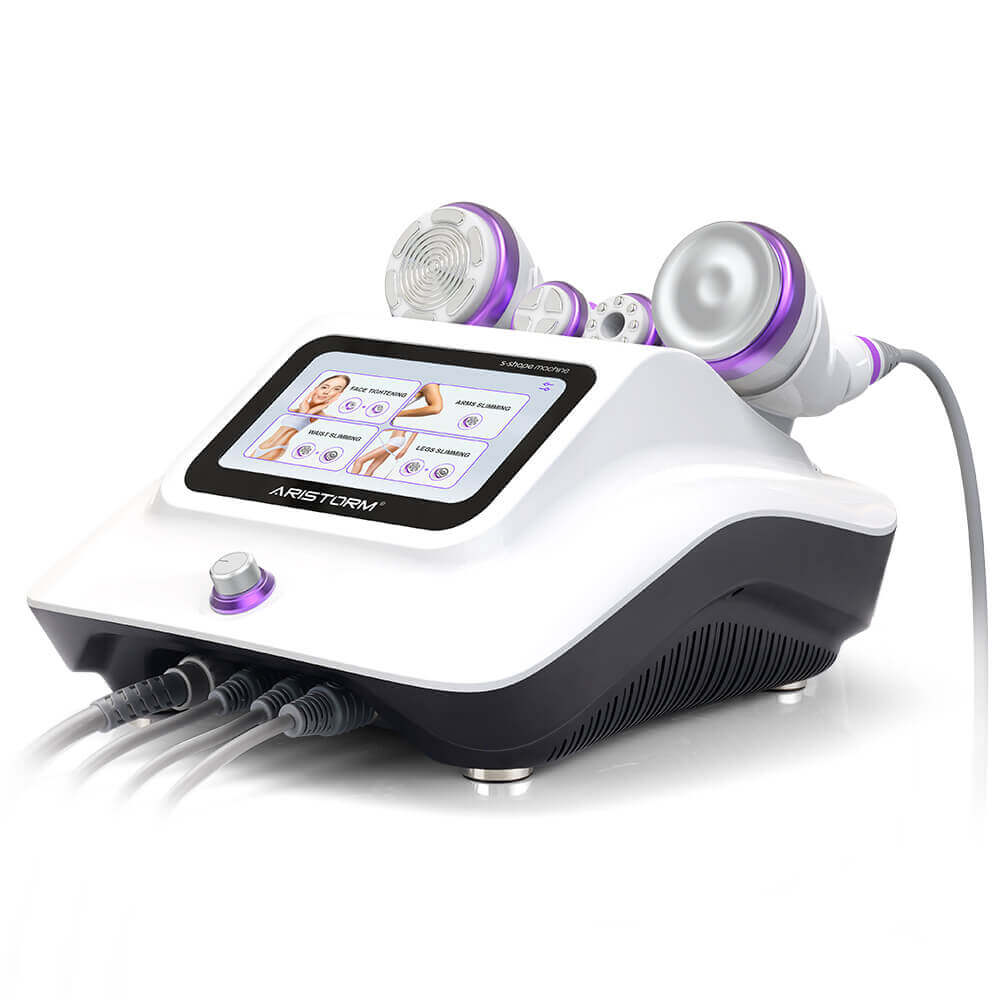 Here's what makes this machine so popular:
Precise and Accurate Targeting: The ARISTORM S Shape Cavitation Machine utilizes advanced fat cavitation technology, resulting in more precise slimming effects without affecting the surrounding.
Adjustable Energy and Depth: The ARISTORM S Shape Cavitation Machine offers adjustable energy levels and treatment depths, allowing for personalized customization according to different users' requirements. This contributes to improved treatment efficacy and adaptability.
Multi-functional Treatment Heads: Equipped with multiple treatment heads, paired with other technologies to achieve skin tightening and cellulite reduction, such as RF, EMS, and other functions. Additionally, the ultrasonic cavitation head is designed to cover larger treatment areas rapidly, making the entire treatment process more efficient.
Non-invasive Treatment: The ARISTORM S Shape Cavitation Machine employs a non-invasive treatment approach, eliminating the need for surgery or injections, thus no significant recovery period is required. You can resume their daily activities immediately after treatment.
During the slimming and body shaping procedure, you usually experience a warm sensation, but without any noticeable pain. After treatment, fat cells gradually get eliminated from the body. According to user feedback, most individuals can observe noticeable results after several treatment sessions with the ARISTORM S Shape Cavitation Machine.
Highly rated ultrasonic cavitation machine for SPA use
CAVSTORM Skin Rejuvenation Cavitation Machine 3.0 is an advanced professional ultrasonic cavitation machine. The device's ultrasonic cavitation head is precision-designed, allowing for adjustable frequency and energy output, ensuring personalized treatment for different body types and fat thicknesses.
The machine integrates three energy sources, including RF, Ultrasonic waves, and BIO. This multi-mode thermal energy technology can simultaneously reduce the volume of fat cells and increase collagen production. It is not only suitable for body contouring and slimming in various areas but also widely used for facial skin lifting and tightening. This makes it a comprehensive professional ultrasonic cavitation machine, meeting the cosmetic needs for both the whole body and face.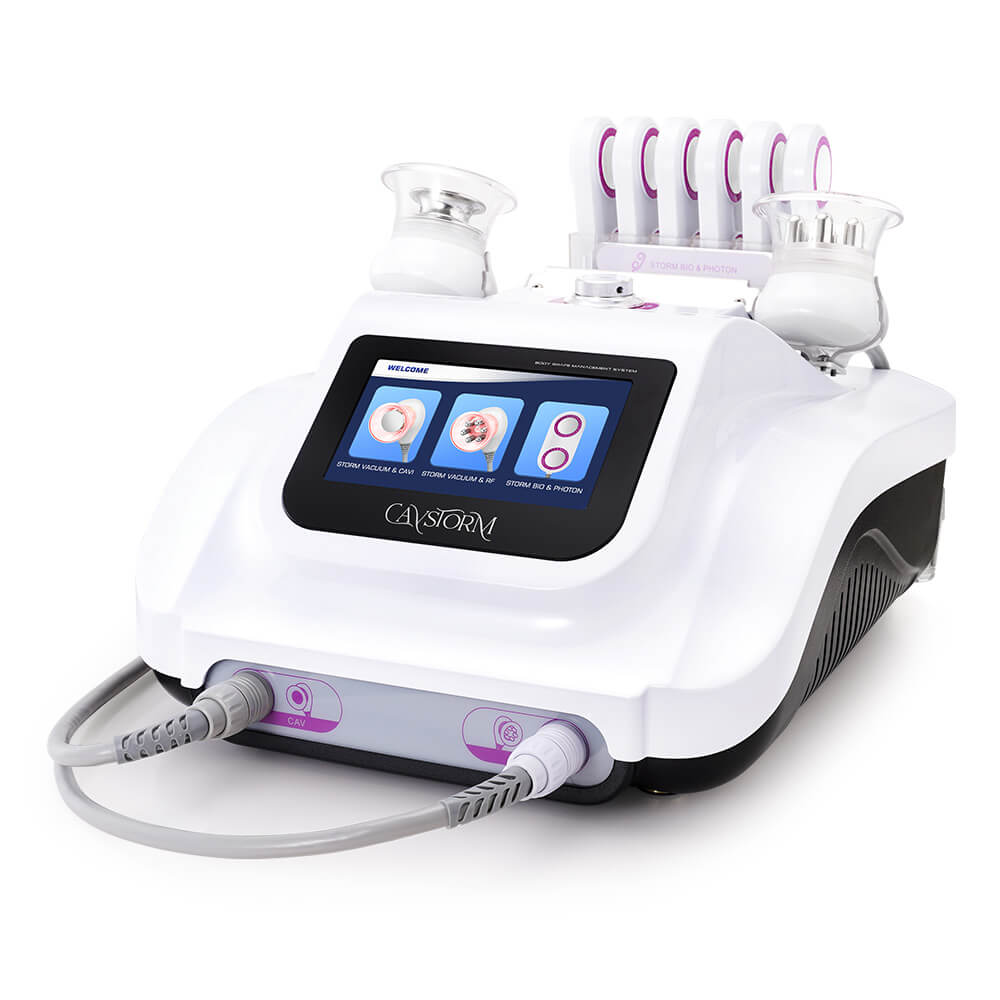 Main Features:
Precise targeting: These professional ultrasonic cavitation machines have high accuracy in fat targeting, allowing them to precisely focus on the target areas while minimizing the impact on surrounding tissues.
Multi-functional treatment heads: Each device is equipped with multi-functional treatment heads, catering to different areas with varying amounts of fat, ensuring a balanced body contouring and slimming experience.
Multi-mode thermal energy technology: Utilizing both RF and ultrasonic wave technology, the energy penetrates deeply into the subcutaneous tissues, stimulating collagen regeneration, resulting in fat reduction and skin tightening, providing a firm and elegant body contour.
Real-time temperature monitoring: The devices are equipped with real-time temperature monitoring systems, ensuring the skin temperature remains within a safe range to protect the skin during treatment.
Highly personalized: CAVSTORM Skin Rejuvenation Cavitation Machine 3.0 allows for adjustable treatment parameters and energy output, enabling highly personalized slimming and contouring plans tailored to individual needs and goals.
Fast treatment: The machines utilize high-frequency pulse technology, and their treatment head design ensures quick coverage of the treatment area, resulting in efficient treatments and shorter session times.
Both professional and home ultrasonic cavitation machines are merely supportive tools. The key to maintaining slimming effects lies in adopting a healthy lifestyle and a balanced diet. Choose the device plan that best suits your individual needs. Embrace technology's power to achieve your ideal body and healthy life!
Risk of use
Ultrasonic cavitation is generally considered safe and non-invasive; however, as with any medical procedure, there are some risks and potential side effects associated with its use. Some include temporary redness, bruising, and swelling in the treated areas. In rare cases, patients may experience burns, blisters, or skin damage. Patients who have metal implants, pacemakers, or other medical conditions avoid ultrasonic cavitation. Also, pregnant women and individuals with active infections or skin conditions should also avoid the treatment.
Choosing a licensed and reputable professional or products purchased through formal channels to perform the treatment is important to minimize the risk of complications.
Final Thoughts
While positive reviews highlight the efficacy and evident outcomes of ultrasonic cavitation treatments, the credibility and consistency of beauty agencies must also be considered. Ultrasonic cavitation machines are becoming more affordable and accessible, allowing more people to benefit from the treatment. More and more people choose to buy cavitation machines to use at home. Consult with skilled professionals whenever possible, and look for trustworthy organizations or buy from official channels. However, patients must maintain a healthy diet and exercise routine to maintain the treatment results.