We know that both electro stimulation and Far infrared have an effect on body slimming shaping. How will they perform when they work together?
The EMS Electro Stimulation Far Infrared Principle
The EMS creating electronic impulses to stimulate specific parts of the body, electrotherapy effectively builds muscles, relieves various body aches, promotes blood circulation, accelerates metabolism, helps to enhances and tightens skin, and brings you a fascinating and healthy body.
The Far-infrared heated therapy, further helps to speed up the body discharges sweat so that to get rid of body toxins, quickly burns redundant fatness/cellulite so that to achieve the effects of losing weight, slimming body and keeping health.
It shows when we combine the two functions together, they work better and save more time to see the effect.
The Functions Of EMS Infrared
1. Reduce cellulite on the arms, abdomen, buttocks, thighs, and calves to reduce weight.

2. Enhances blood circulation in the shoulders, neck, back, buttocks, waist, and vertebrae, eliminating body fatigue.
3.Stimulate muscles for contraction, lifting and firming muscles
4.Effective treatment of cervical and lumbar pain caused by work
5. Relieve arthritis, joint pain, and rheumatism.
6. Unblock the mammary glands and develop strong and beautiful breasts.
7. Stimulate the prevention of breast cancer and related diseases.
How Many Treatment Do I Need?
We recommend 2 to 6 sessions per week, 20-45mins per treatment.

After 3 to 4 weeks of regular use, you will experience a measurable improvement in muscle tone and constitution.
For weight loss, you can see the results after about 25 sessions.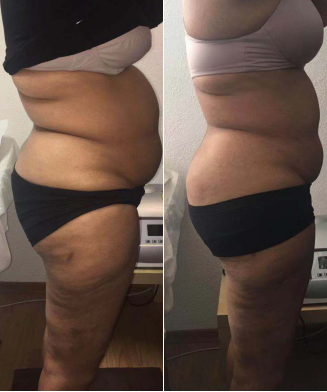 FAQS

1. Is there any side effect?
No, Both the Electronic muscle stimulation and far infrared are safe. You will feel electronic stimulation and will Sweating during the treatment. We suggest drinking a cup of water before and after the treatment.
2. Do I need to use the gel?

Yes, you can use the gel when using the ems pads, you will feel more sensitive during the treatment.
3.How to clean the electrode pads

Wipe off electrode pads with a non-alcohol wipe, baby wipe, or a wet one.
4.Will the Infrared help to Lose Weight

Yes, the increase in metabolism has many effects that help weight loss including increasing digestion function which efficiently converts the food you eat into energy.
5. Who Shouldn't Use the EMS AND INFRARED

Cases of epilepsy, people with pacemakers, pregnant women, no adrenal suppression, SLE, multiple sclerosis, hyperthyroidism, hemophilia, acute joint damage, closed infection (teeth, joint, tissue), artificial joints, metal needles or any other implant, or during the menstrual cycle.