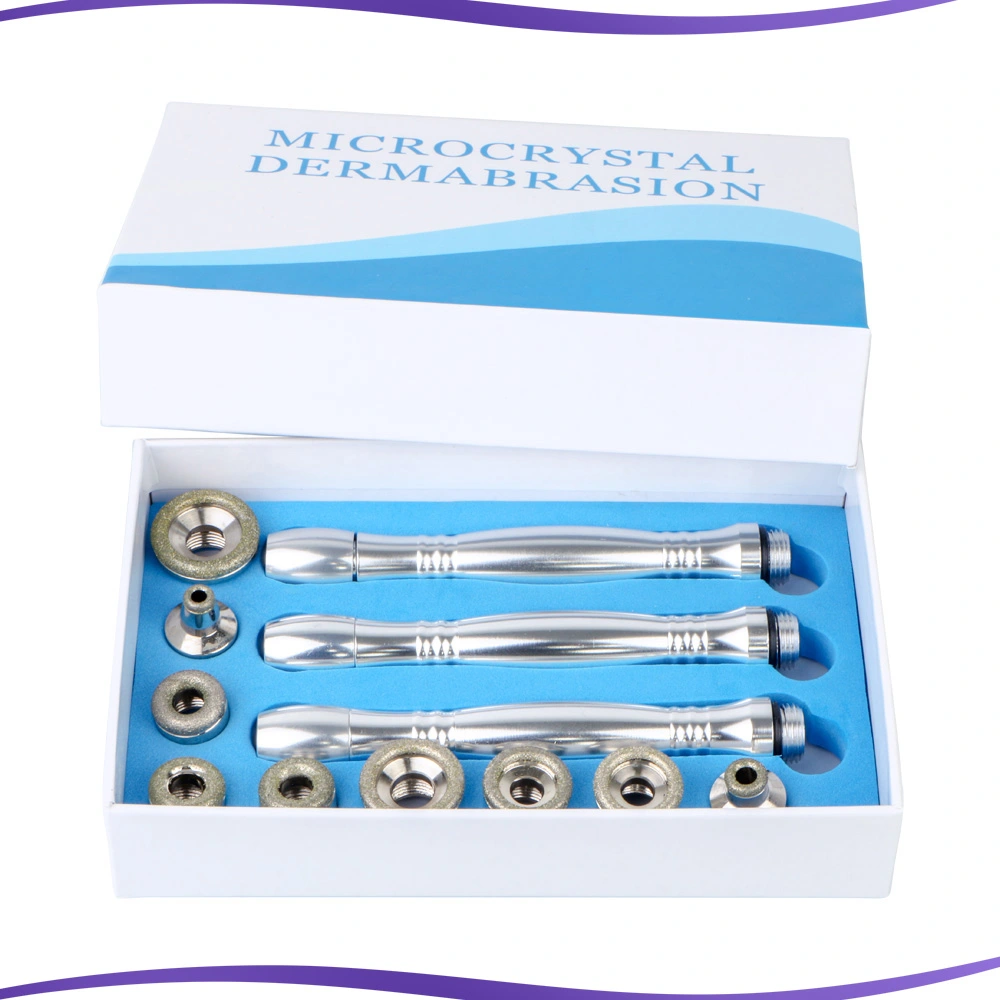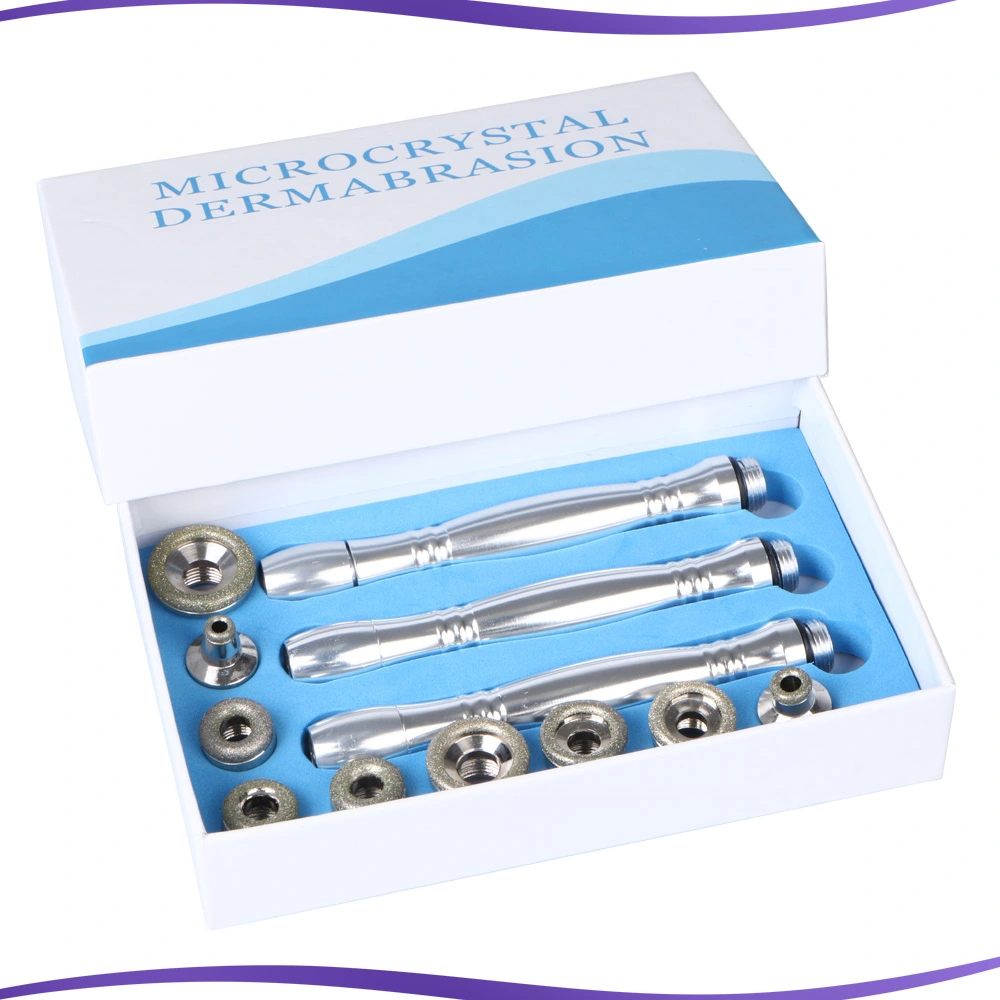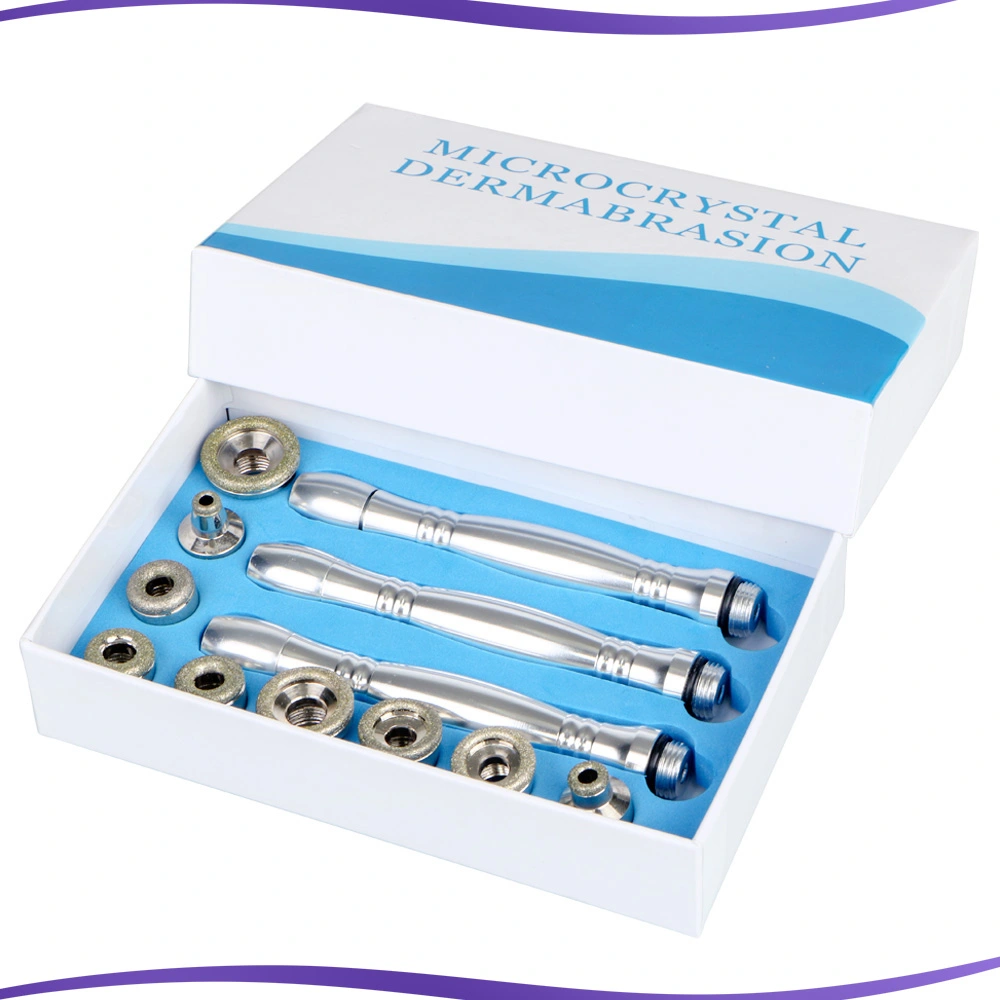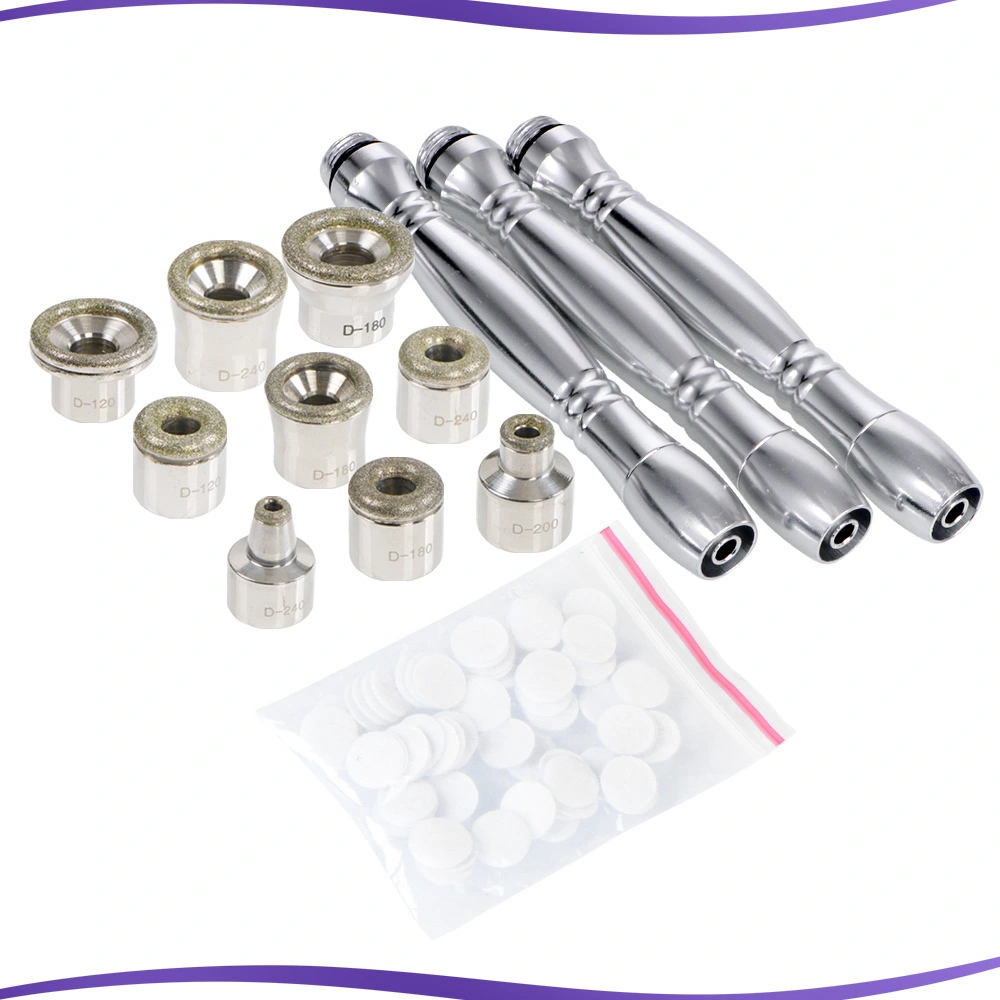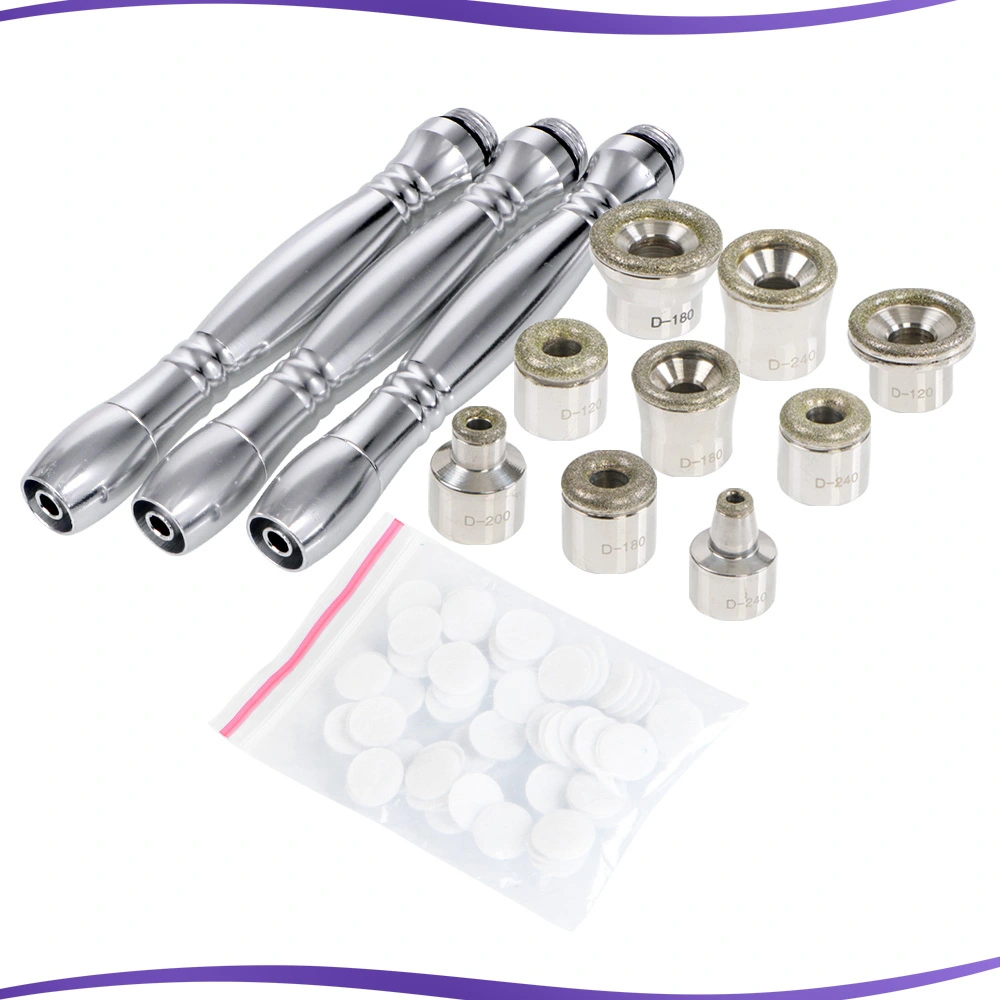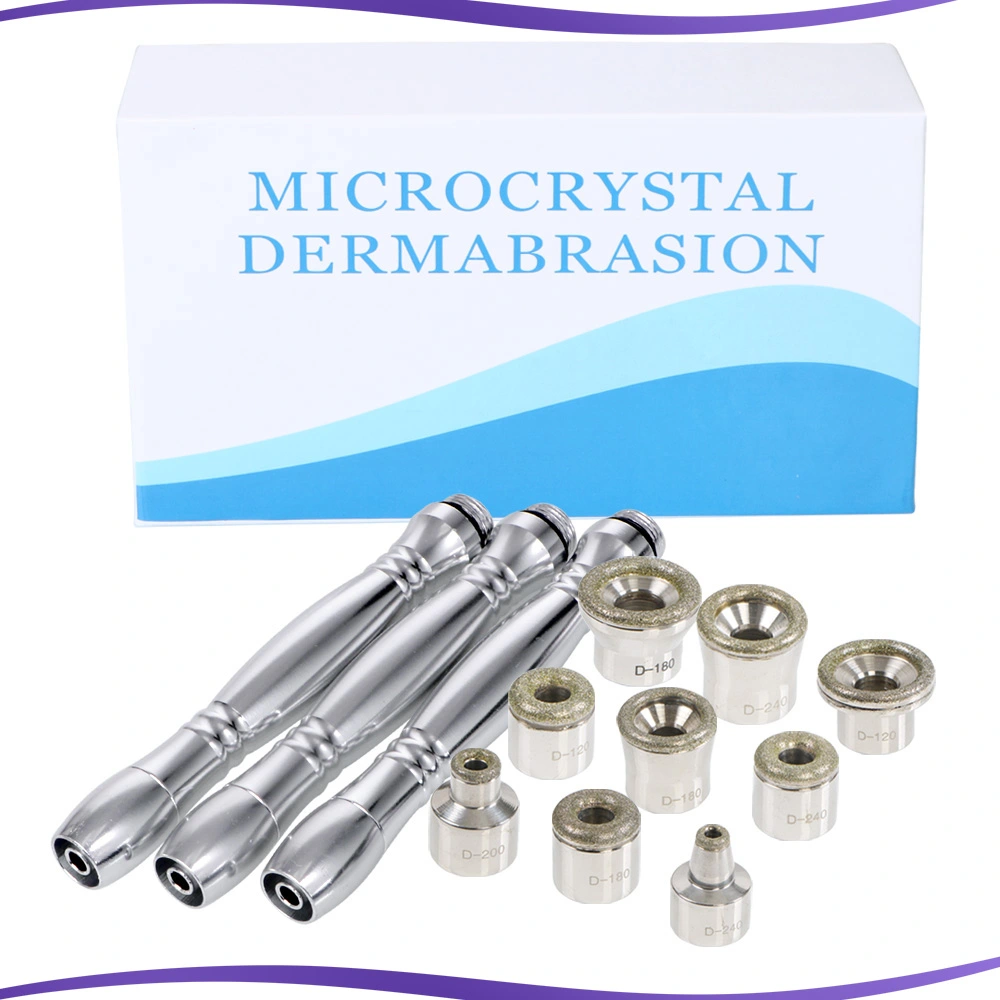 Replacement Tips and Wands
Use diamond micro-carved tube, combined with friction and vacuum aspiration, remove the outer layer of aging cells and promote cell renewal
Included Diamond Tips
3 Surgical Stainless Steel Wands
D120,D180-Body,especially for acne,knee,elbow areas and striae of pregnancy.
D180,D240-face,for the large blemishes.
D120,D240, D180 -for scares,fine lines and imperfections.
D200-Eyes and both sides of nose,for wrinkle,oil tablets,blackhead and acne.
D240-Eyes and both sides of nose.For wrinkles,oil teblets,blackheads and acne.
1 package small cotton filters
Precautions
-chlean dlamond tips with alcohol,then sterilize them with UV light or high temperature
-replace the cotton filter inside the diamond tip or gas nipple after 5~6 customers treatment
-clean diamond tips with alcohol,then sterilize them with UV light or high temperature

Replacement Tips and Wands - Fits all HEALTHandMED Diamond Microdermabrasion Machines.
Use diamond micro-carved tube, combined with friction and vacuum aspiration, remove the outer layer of aging cells and promote cell renewal
Included Diamond Tips:
3 Surgical Stainless Steel Wands
D120,D180-Body,especially for acne,knee,elbow areas and striae of pregnancy.
D180,D240-face,for the large blemishes.
D120,D240, D180 -for scares,fine lines and imperfections.
D200-Eyes and both sides of nose,for wrinkle,oil tablets,blackhead and acne.
D240-Eyes and both sides of nose.For wrinkles,oil teblets,blackheads and acne.
1 package small cotton filters
Advantage
-100% brand new and high quality
-Massaging and peeling at the same time
-Non-surgical skin refinish procedure
-Non-invasive skin rejuvenation procedure
Precautions
-clean diamond tips with alcohol,then sterilize them with UV light or high temperature
-replace the cotton filter inside the diamond tip or gas nipple after 5-6 customers treatment
-clean diamond tips with alcohol,then sterilize them with UV light or high temperature
Important Notice Regarding Your Safety and Well-being
At Mychway, your safety and satisfaction are our top priorities. As a supplier of advanced beauty equipment, we feel it is our duty to remind you of certain health precautions.
We note that some customers may have underlying health conditions, such as poor health or unhealthy internal organs, which may be affected by certain cosmetic treatments, leading to the onset of some illnesses.
While our machines are equipped with advanced safety features, we urge customers with these conditions to consult a healthcare professional before using our equipment.
Your health is important. We recommend that those with pre-existing health conditions seek medical advice to ensure our treatments are appropriate for their unique health conditions. Our team is here to help you and answer any questions you may have.
Thank you for your understanding and cooperation in this matter. By taking these precautions, our goal is to not only provide you with beauty solutions but also provide you with peace of mind.
If you have any questions or need more information, please feel free to contact us. Your safety is our commitment.
Call for help
If you like to talk to someone, you are welcome to call at 17722598734.
Email
If you only like typing, you can reach us through email at customerservice@mychway.com.
Whats APP
If you prefer a live chat, weclome to PM at WhatsApp 17722598734.
Address
RM1701A, Pengdu Mansion,126 Nanguang Rd, Nanshan,Shenzhen, Guangdong 518054 China
Business hours
Mon- Sat: 10:00 AM – 20:00 PM