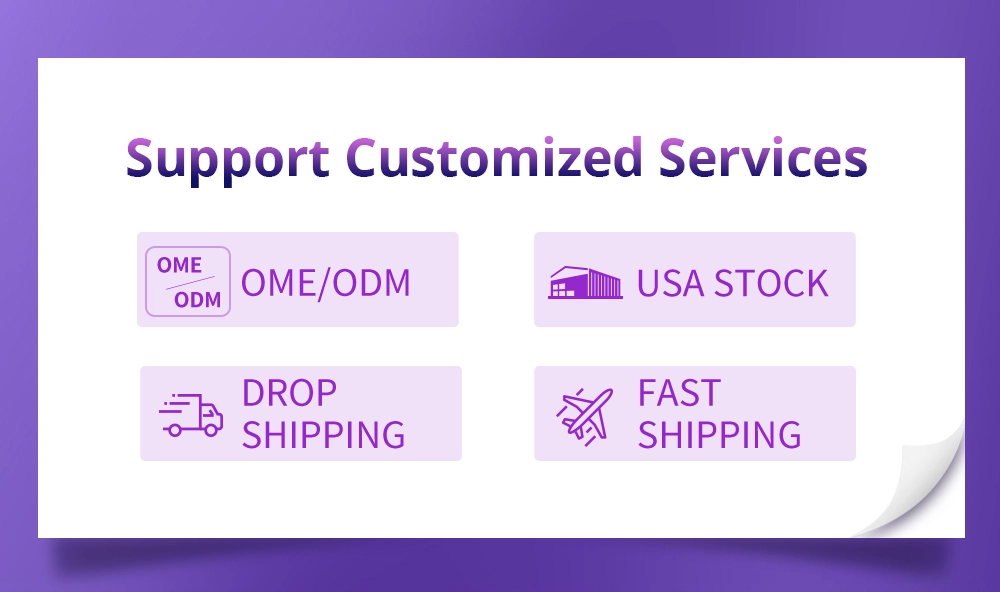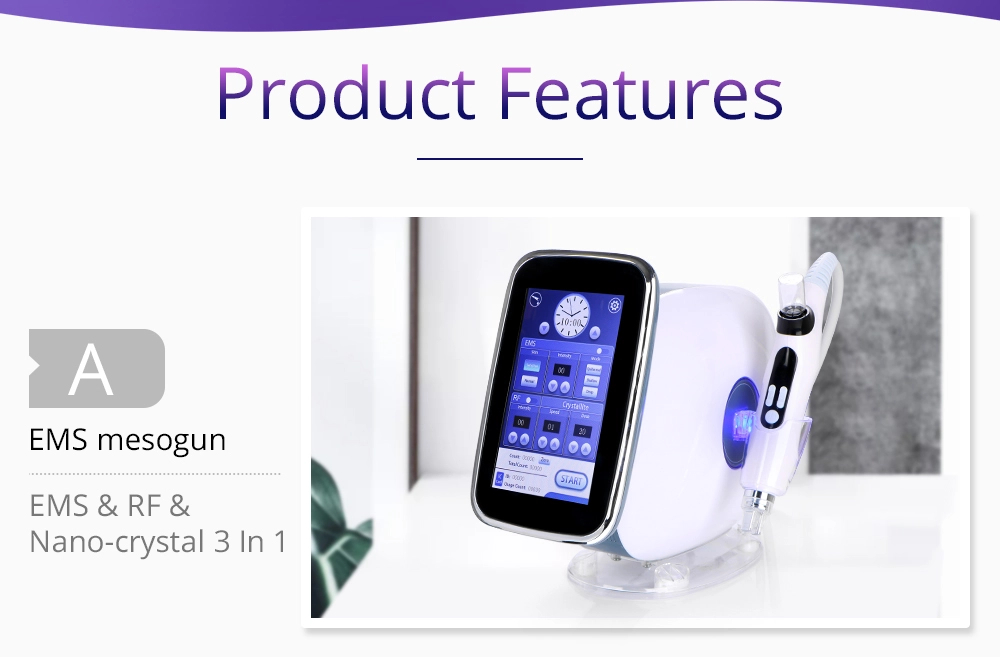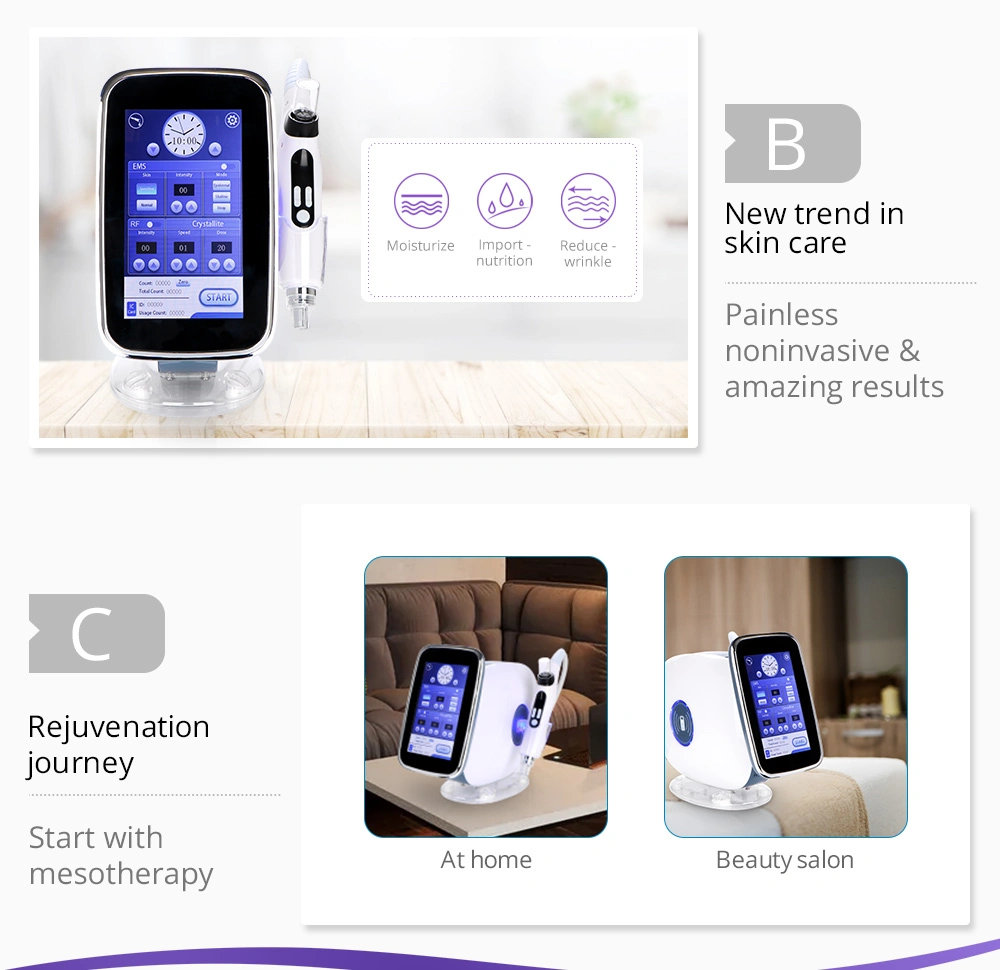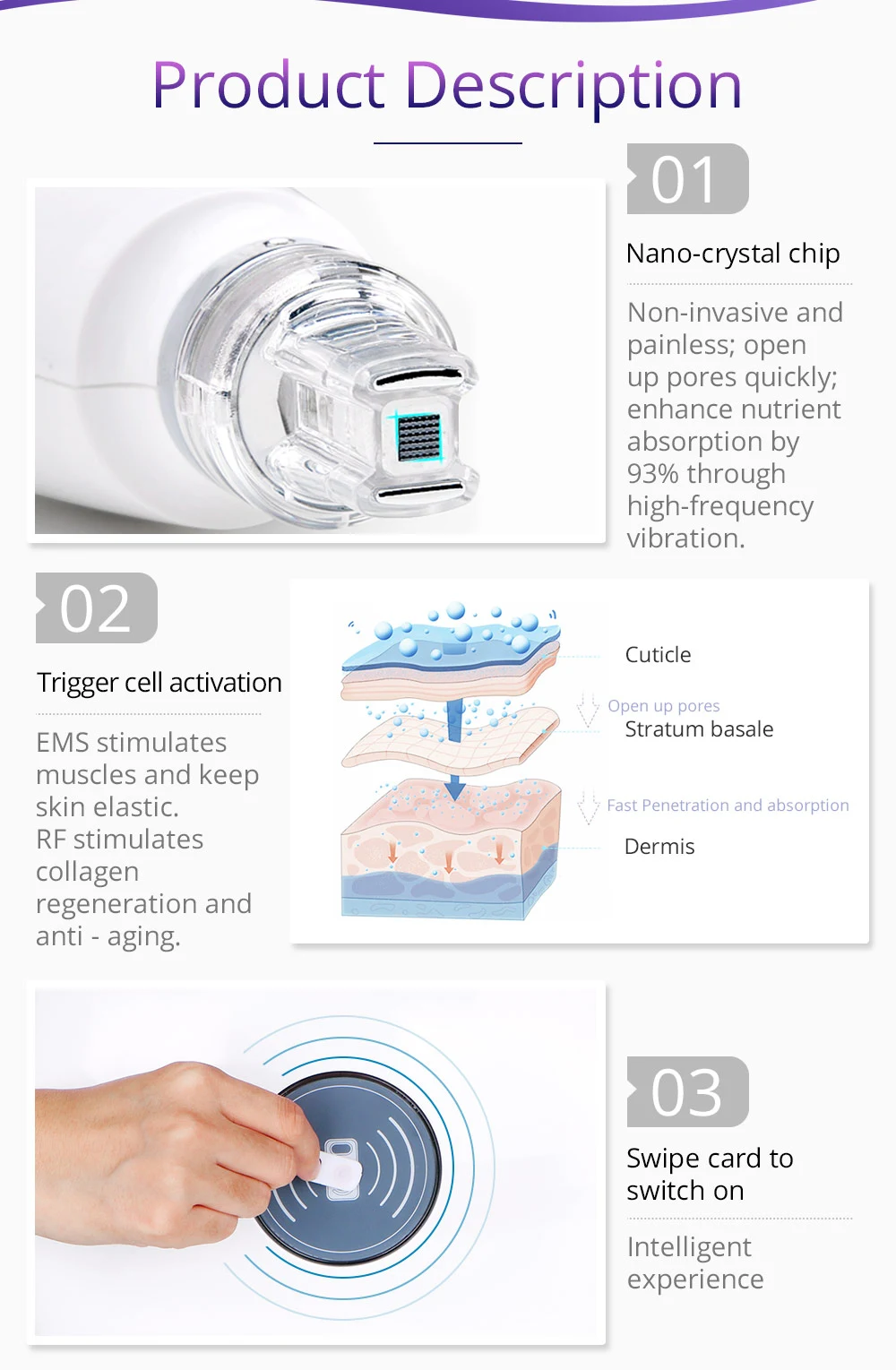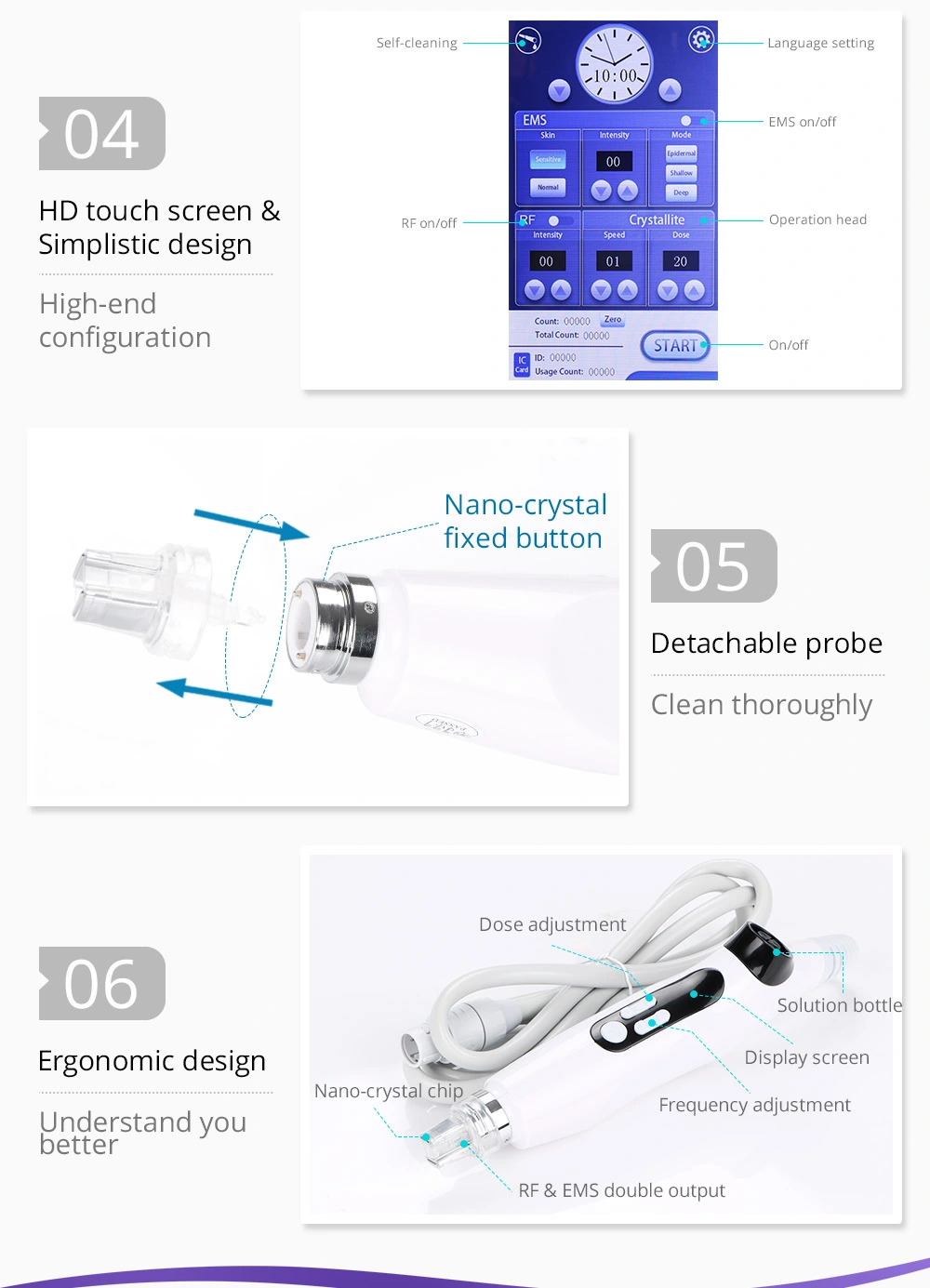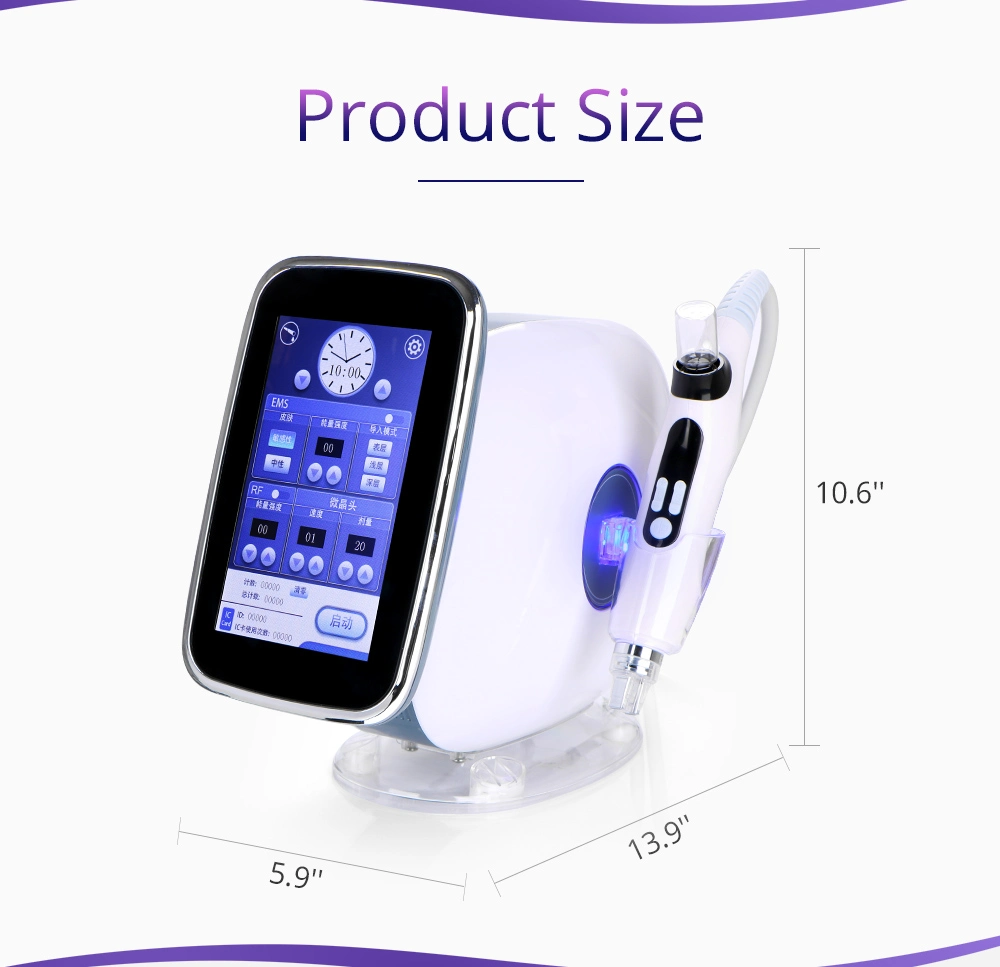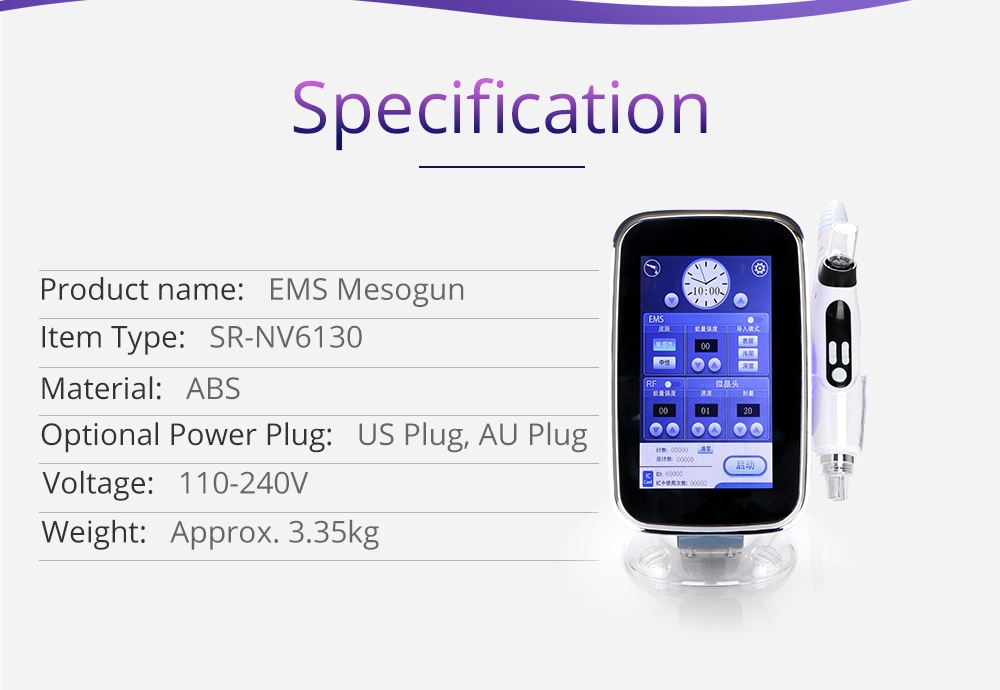 How this Nano injection mesotherapy works on your skin?
The Nanoinjection Mesogun has innovated the syringe. Unlike the mesotherapy gun that uses a needle, it uses a fine needle with a microcrystalline tip to penetrate the stratum corneum of the skin, open the pores of the epidermal layer of the skin, and then infuse the nutrient active ingredients.

What advantages can this technology bring to the skin?
It infuses nutrients deep into the skin, quickly repairs aging skin, stimulates collagen regeneration, removes wrinkles and blemishes, improves skin tone, lifts the face, and restores youthful, elastic skin.

What are its advantages over other technologies and why should choose it?
1. It can enter the nutrient solution into the deep layer of the skin without harming the skin, which is safe and has no side effects.
2. It can see the effect faster than the general skin repairing machine.
3. It can nourish the skin, replenish water, and strengthen the skin's absorption of beauty products.
4. High pressure hyperbolic handle design, easy to operate.
5. Large size operation interface, touch screen control, all operations are clear and simple.

Specification
Item Type: EMS Mesogun
Material: ABS
Voltage: 110-240V
Weight: Approx. 3.35kg
Packing Size:41*34*22cm
Optional Power Plug: US Plug, AU Plug,UK Plug(We provide plugs that are suitable for use around the world, and match you with plugs suitable for your local country. If you need plugs from other countries so that you can use them abroad, please contact customer service, thank you)

Package Include
1 x Main Host
1 x Power Cable
1 x Operate Head
1 x Operate Head Rack
1 x Set of Needles
Note:
If any accessories are missing after receiving the package, please contact the seller customer service immediately, thank you.
Important Notice Regarding Your Safety and Well-being
At Mychway, your safety and satisfaction are our top priorities. As a supplier of advanced beauty equipment, we feel it is our duty to remind you of certain health precautions.
We note that some customers may have underlying health conditions, such as poor health or unhealthy internal organs, which may be affected by certain cosmetic treatments, leading to the onset of some illnesses.
While our machines are equipped with advanced safety features, we urge customers with these conditions to consult a healthcare professional before using our equipment.
Your health is important. We recommend that those with pre-existing health conditions seek medical advice to ensure our treatments are appropriate for their unique health conditions. Our team is here to help you and answer any questions you may have.
Thank you for your understanding and cooperation in this matter. By taking these precautions, our goal is to not only provide you with beauty solutions but also provide you with peace of mind.
If you have any questions or need more information, please feel free to contact us. Your safety is our commitment.
Call for help
If you like to talk to someone, you are welcome to call at 17722598734.
Email
If you only like typing, you can reach us through email at customerservice@mychway.com.
Whats APP
If you prefer a live chat, weclome to PM at WhatsApp 17722598734.
Address
RM1701A, Pengdu Mansion,126 Nanguang Rd, Nanshan,Shenzhen, Guangdong 518054 China
Business hours
Mon- Sat: 10:00 AM – 20:00 PM