Cavitation machines are popular weight loss machines used in the beauty industry to reduce excessive body fat and tighten skin.
With a wide range of cavitation machines available in the market, choosing a suitable machine can be challenging for many people. If you want to start a beauty salon or studio, what kind of cavitation machine should you buy to bring effective weight loss results to your clients?
This buying guide will help you choose the best slimming cavitation machine for your new salon or spa. So, read on!
Overview of Weight Loss Cavitation Machine
Cavitation slimming machines are the latest weight loss trend in the beauty industry. The machines are used to remove localized fat and help with weight loss. These machines are specifically designed to target and remove stubborn fat from the abdomen, thighs, flanks, hips, and arms.
The cavitation machine provides non-invasive and painless weight loss treatment through low-frequency sound waves. The waves are delivered deep into the skin to target and destroy the fat cells, which are then metabolized by the body and excreted as waste. Finally, it results in fat reduction around the treatment area.
Factors to Consider When Purchasing a Slimming Cavitation Machine
If you're a salon or spa owner and want to bring the best results for your customers, your choice of a machine can make or break your business.
1) Equipment Security
Safety is the leading factor to consider in a cavitation machine to ensure that the use process does not accidentally injure the customer.
Look for these safety features when purchasing the cavitation machine with an automatic shut-off mechanism, temperature sensors, a heat regulation system, an easy-to-read display, and energy intensity control.
An efficient heat regulation or temperature monitoring system in a cavitation machine is vital to ensure client safety and comfort. Cavitation machines with built-in timers automatically shut off after a specified treatment time to prevent extreme exposure.
2) Product Features
Some versatile cavitation machines come with vacuum suction, RF, color LEDs, and other special services for skin tightening or rejuvenating. Before buying the cavitation machines, you should be aware that there are multiple types of these machines, and each cavitation machine will have different features and serve a unique purpose. To find the best cavitation machine for your beauty salon, choose the one with all the versatile features and technology you need.
a. RF technology incorporated in cavitation machines
RF technology incorporated in cavitation machines serves multiple roles, including skin tightening, fat reduction, and improved blood circulation and metabolism.
b. Vacuum suction cavitation machines
Vacuum suction is another important feature of cavitation machines. The suction improves blood circulation, stimulates the delivery of nutrients and oxygen to the treated area, as well as promotes the lymphatic system. Besides, the suction action creates a vacuum and applies controlled pressure on the targeted area, enhancing fat cell disruption.
c. Color LEDs in slimming cavitation machines
Color LEDs have specific roles in slimming cavitation machines. They boost collagen production, reduce wrinkles and fine lines, and stimulate cellular function.
d. Facial, eye, and body probes
Facial and eye probes are designed to target specific areas of the face for facial contouring. These probes help reduce double chin and sagging skin. The smaller probes allow precise treatment around the eyes to target wrinkles, fine lines, and puffiness. Whatever function of the probe is divided into face probe and body probe. The body probe can only act on the body.
Some cavitation machines offer specific programs for different parts of the body, such as the abdomen, arms, and thighs. However, some cavitation devices also offer combination treatments, such as vacuum therapy or RF cavitation, which can improve the overall slimming treatment results.
3) Intensity Levels
Slimming cavitation machines come with different intensity settings for different body areas. The intensity levels affect the disruption and breakdown of fat cells by determining the energy delivered to the treatment area.
a. Higher intensity levels deliver high energy, leading to greater fat removal. In contrast, lower intensity levels provide less energy which is suitable for sensitive areas.
b. A greater intensity level is beneficial for people with thick fat layers because it has the ability to penetrate deeper into targeted fat cells. This factor plays a significant role in determining the effectiveness and results of treatment.
So, look for a cavitation machine with intensity controls and clear indicators for accurate adjustments. Adjustable intensity levels allow the operator to modify the treatment according to the client's progress, comfort, and needs.
4) Power and Frequency Range
This is another imperative factor to keep in mind before making a purchase. The goal should be to select the cavitation machine with sufficient power and adjustable frequency options.
(20 to 40 kHz) - A lower frequency is the more favorable range for deeper penetration and breaking deeper fat deposits.
(40-60 kHz) - the cavitation machine that operates between 40-60 kHz is suitable for targeting superficial fat layers because this range is too weak for penetration in deeper layers.
(Above 60 kHz) - this frequency range is favorable for skin tightening. These high-range frequencies target the superficial skin layer and boost collagen production, resulting in a firmer skin appearance.
This mid-frequency range is favorable for skin tightening. Frequencies above 60 kHz have a more visible skin-tightening effect. These high-range frequencies target the superficial skin layer and boost collagen production, resulting in a firmer skin appearance.
5) Cost
Cavitation machines with extra tools, special features, and high-quality materials are expensive. To understand the average price range, research the market. Compare prices from various manufacturers or suppliers to get a competitive deal without compromising quality.
a. The standard price for professional and commercial-grade cavitation machines ranges from $1,000 to $10,000.
b. Mid-range cavitation machines range from $1,500 to $5,000, offering a good combination of affordability and functionality.
c. While high-end machines typically range from $5,000 to $10,000 or more.
d. In addition, portable machines can be found for around $100 to $1000, but these machines offer limited features and basic functionality.
You should calculate the potential return on investment by considering key factors such as demand for weight loss treatments in your target market, cost per session, and the machine's reliability and durability.
6) Warranty and After-Sales Service
Check out the warranty offered by the brand and reliable after-sales support.
Check out if the brand offers warranty coverage and spare-part availability. A good and reliable after-sales service includes technical support, upgrades, software updates, training, and education.
Technical support helps resolve problems on time if any issue arises with the machine. Also, a reputable brand provides on-site training, instruction materials, and online education resources to customers so they can operate the machine effectively.
7) Cavitation Probe Design
While purchasing the cavitation machine, carefully evaluate the quality, design, and size of the cavitation probe because it highly impacts treatment effectiveness.
a. The materials used in cavitation probes construction are stainless steel or titanium alloy due to their high thermal conductivity, strength, corrosion resistance, and ease of cleaning. Titanium is used in high-end cavitation probes as it is strong, lightweight, and biocompatible.
b. The size and shape of cavitation probes significantly affect the treatment safety and results. The small probe head is recommended for safe treatment because the large and tapered probe head can lead to mechanical injury. Ideally, the length of the cavitation probe should be between 12 to 18 cm, and the diameter should be 6 to 10 mm.
Also, it is recommended to look for probes that are easy to handle, ergonomically designed, and compatible with cleaning agents.
8) User-friendly Interface
Choose a device that has a user-friendly interface and easy-to-read display. Choose the cavitation machine with big LCD screens showing all settings, such as intensity level, treatment duration, and selected programs.
9) Portability or Weight
If you offer door-to-door services, need to move the machine often from one place to another, or have limited space, you should consider the weight of the cavitation machine. In these cases, it is best to use a lightweight, compact machine that is easy to transport.
10) Cavitation Gel
The gel is applied to the treated body area to operate the machine smoothly over the skin. When buying the specific cavitation machine, make sure to check if the equipment requires the gel.
Recommended Brands and Models of Weight Loss Cavitation Machines
When purchasing a weight loss cavitation machine for a new salon or clinic, it is imperative to choose a reputable brand and high-quality model machine. Your entire business will highly depend on this single factor. Let's explore some well-known brands and the best models!
myChway
myChway is the epitome of slimming cavitation machines. We offer quality weight-loss devices that utilize powerful cavitation technology and possess versatile features. We have an excellent 4.5 rating on Trustpilot. The cavitation machines at myChway are certified and made up of high-quality and durable materials. In addition to product quality, myChway provides a generous warranty period, reliable technical support, and excellent customer support.
UNOISETION
UNOISETION is a sub-brand of myChway, the top supplier of slimming cavitation machines. We manufacture high-quality products for fat reduction, body contouring, and skin revitalization. UNOISETION offers a wide range of cavitation devices for non-invasive weight loss treatment. UNOISETION's products offer versatile treatment options and use innovative technologies. You can shop for the best professional cavitation machines for your salon here. Lastly, We offer good after-sales support and responsive customer service.
ARISTORM
ARISTORM also is a sub-brand of myChway. From medium to complex, ARISTORM has a great collection of cavitation machines. Most of the machines in ARISTORM'S collection are professional that is widely used in beauty studios. ARISTORM's machines feature advanced technologies and combine multiple technologies in one platform to give powerful results. ARISTORM offers a good warranty which ensures protection against defects and gives you peace of mind. Also, based on the reviews, the customer service is excellent.
Best Models of Slimming Cavitation Machines
Quality machines can drive your start-up dream to reality. Here are some great machine models that will deliver viable results and make your clients happy.
ARISTORM's S Shape 30K Cavitation Machine with Laser Pads
A 30K Cavitation machine is the best option to remove thicker fat. This powerful machine features ultrasound, RF, laser, EMS, and vacuum technology in a single device.
Key Features:
Skin tightening, deep fat removal, wrinkles removal, touch screen machine with six handles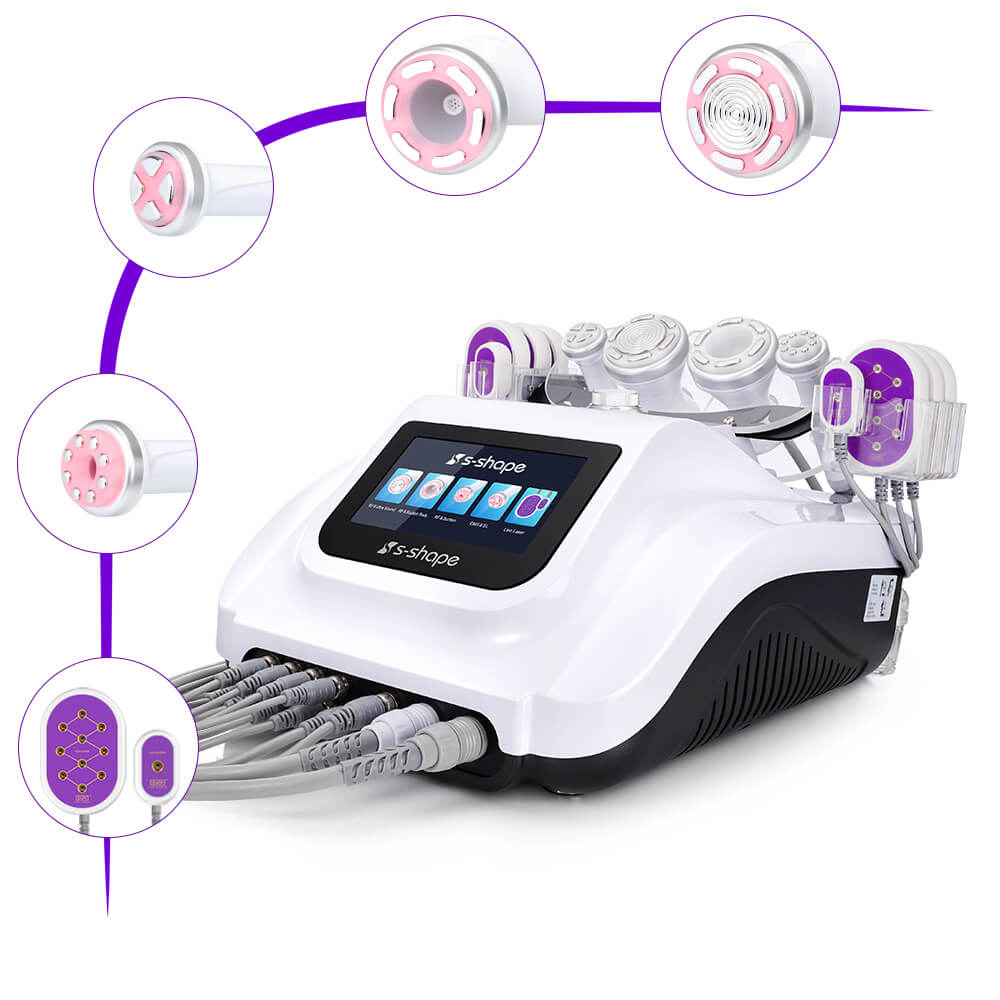 Pros
a. All-in-one design
b. Easy to use
c. Multiple Probes
d. Include Instructions
e. Powerful 30K cavitation technology
f. Offers precise and targeted treatment
g. Includes customization options
h. Highly effective for enhanced fat cell disruption
i. Laser Pads for skin tightening
j. Non-invasive and pain-free

Cons
Operators require in-depth skills and techniques to use this machine
Individuals with sensitive skin can experience discomfort due to heat emitted by laser pads
Requires regular maintenance
UNOISETION 6-in-1 Cavitation 40K Vacuum RF Slimming Machine
The UNOISETION 6 in 1 cavitation 40K machine is a popular and most professional machine in the market. This machine combines six advanced technologies in a single platform to provide non-invasive and advanced body contouring treatments.
The six-in-1 functions include Lipo Cavitation RF Lipo Laser, 40K Cavitation Probe, Vacuum Bipolar 3D RF, Sextupolar 3D RF Probe for the body, Quadrupole 3D RF Probe for Face and Body, and Three-pole 3D RF Probe for the face.
Key Features
Multifunctional cavitation machine, adjustable intensity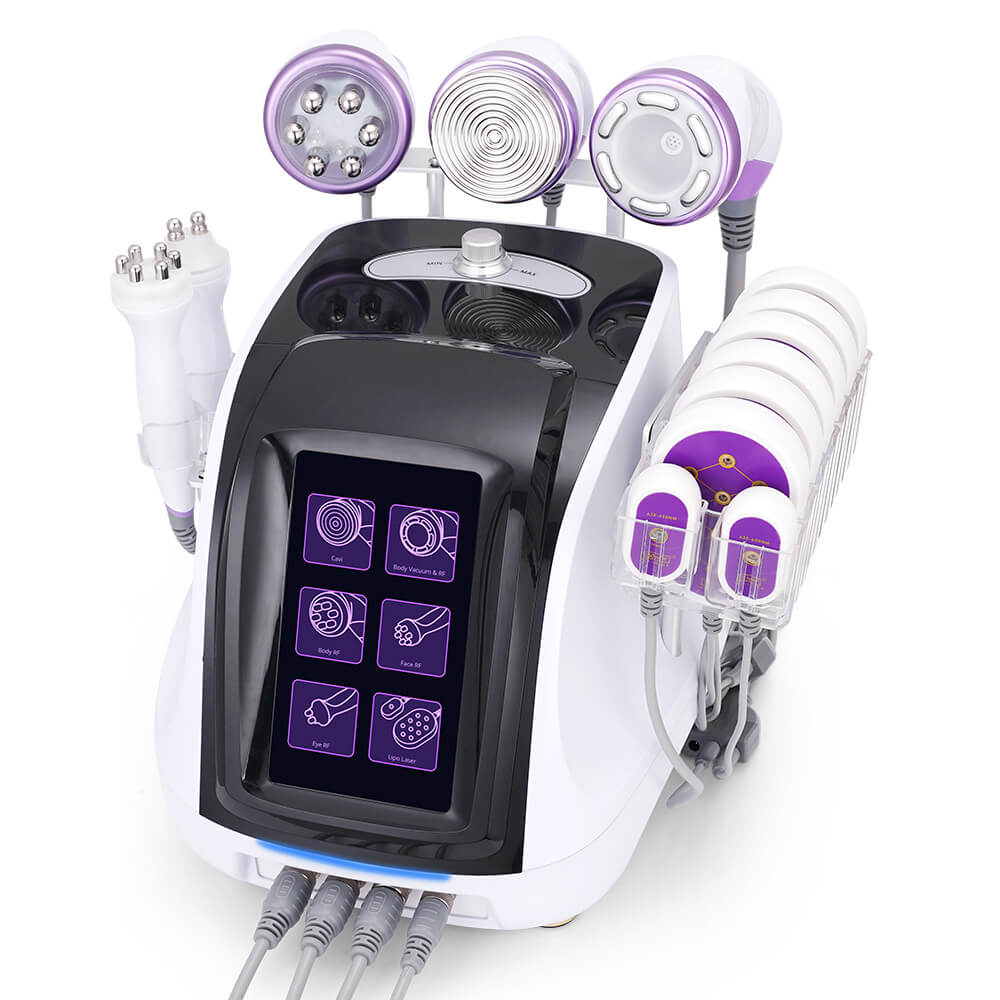 Pros
a. Safe and non-invasive
b. Multiple treatment modes
c. Effective fat reduction and cellulite reduction
d. Improves skin elasticity
e. Can be used on multiple parts of the body, including the neck, waist, and breasts
f. Includes safety features like auto-timers, temperature monitoring, and adjustable intensity levels
Cons
a. Often requires multiple sessions to get desired weight loss results
b. Can cause temporary redness or swelling in individuals with sensitive skin
c. Operating this machine requires specific skills and expertise
d. Requires regular maintenance and upkeep for consistent performance

UNOISETION 9-in-1 Ultrasonic Cavitation Machine for Toning and Slimming
This is another powerful and multifunctional cavitation machine that is best suited for start-ups or well-established beauty salons. The 9 in 1 cavitation machine has a high-power working handle, so it removes stubborn fat faster. Besides body contouring, the machine can perform facial lifting treatments, including under-eye wrinkles and eye bags.
The machine uses include a Lipo Cavitation machine (main), 40K Cavitation, Vacuum Bipolar RF, Multipolar RF Probe for the body, Quadrupole RF Probe for face and body, Three Polar RF Probes for eyes and face, Ice Hammer, EMS Electrode, and Phototherapy.
Key Features
Multiple technologies in one place, Multipolar, and tripolar RF boost collagen production, Vacuum, and RF to improve blood circulation.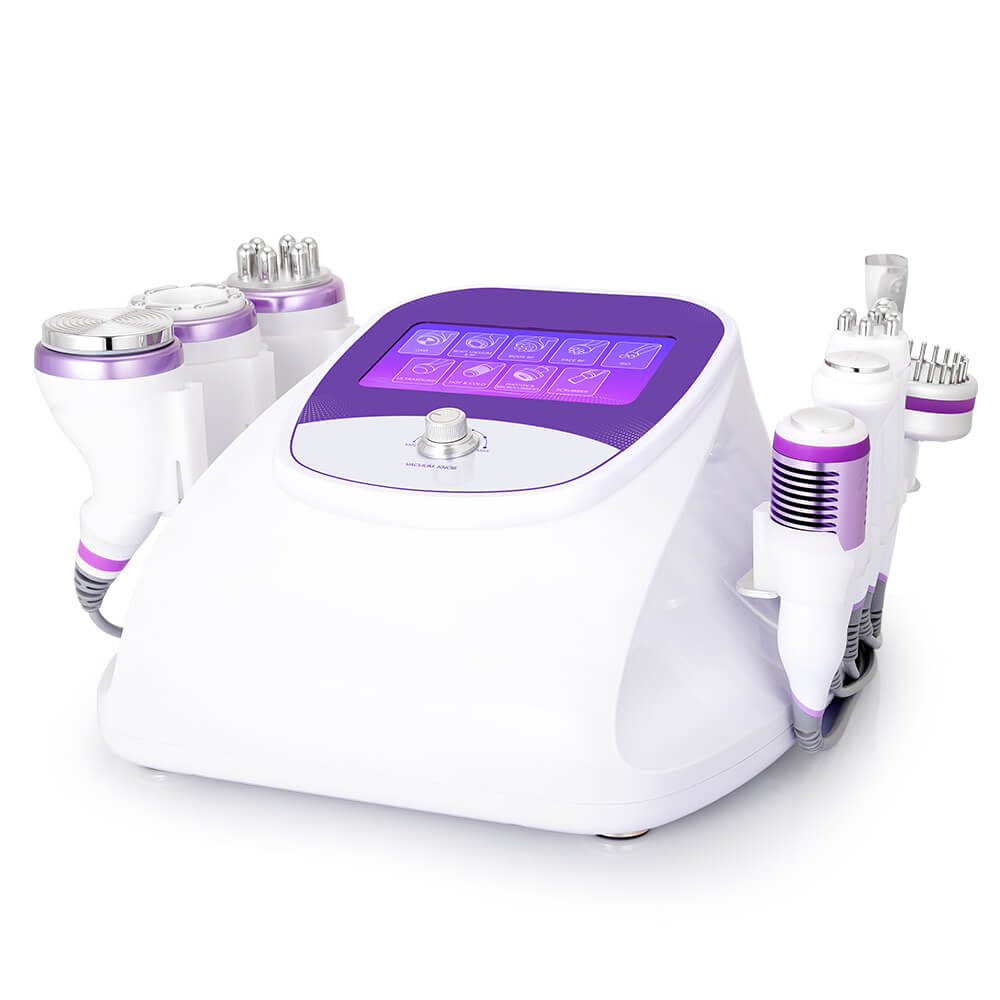 Pros
a. Multifunctional
b. Easy to use
c. Improves skin elasticity
d. Non-invasive and safe
e. Helps achieve a contoured and slim physique
f. Provides non-invasive facial rejuvenation
g. Features user-friendly interface
h. Offers a wide range of treatments for body and face
Cons
a. Possess complex settings and functions, requiring additional expertise and time
b. High initial cost, which can be a concern for small beauty businesses.
c. Larger and bulkier in size, meaning not so easy to transport
d. Maintenance and service costs can be high

CaVstorm 40K Ultrasonic Cavitation 3.0 Slimming Machine
This machine uses the latest innovative technology, Cavitation 3.0, to reduce deeper fat and rejuvenate the skin. Due to the potent power of 3.0 technology, this cavitation machine's treatment takes less time and enhances treatment efficiency.
Key Features
Use whole new technology-Cavitation 3.0, one handle with two functions, Multifunctional device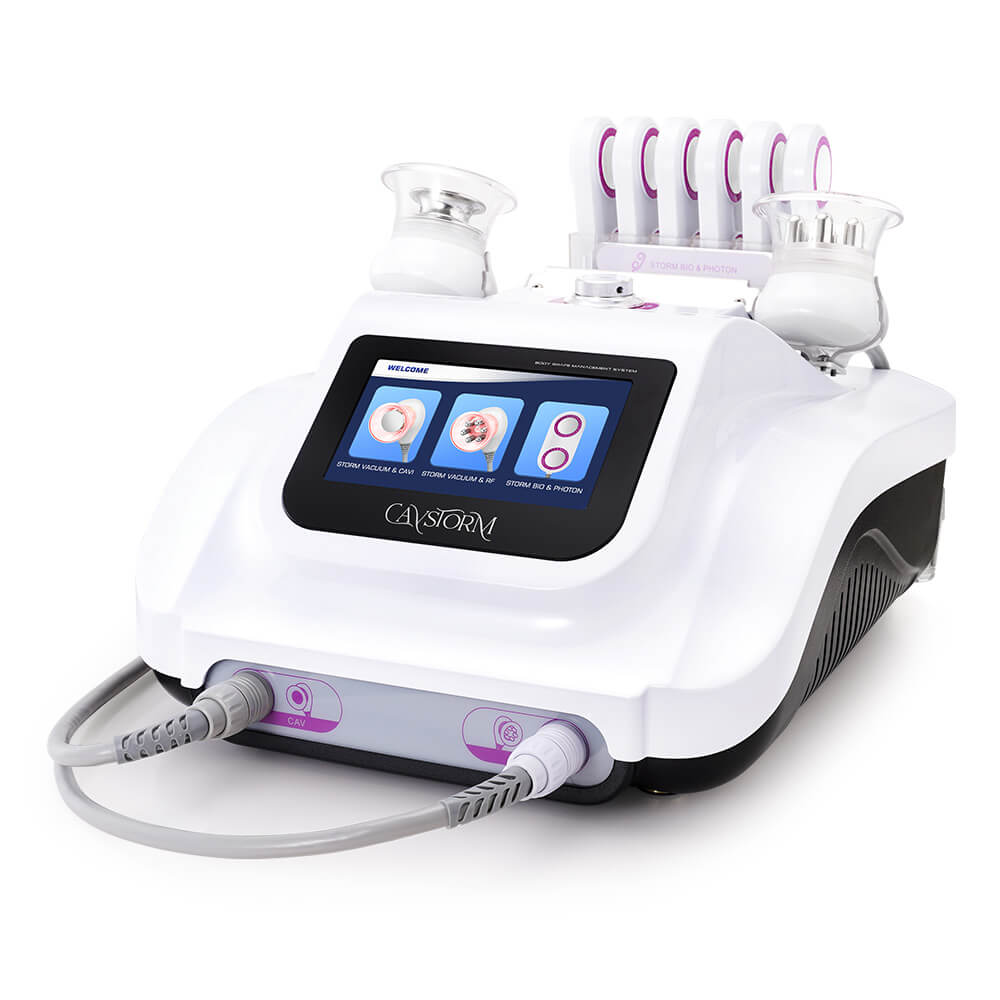 Pros
a. New ultrasonic transducer
b. Low loss-rate
c. Boosts metabolism
d. Features multiple treatment modes, an intuitive interface, and controls
e. Enhanced treatment effectiveness

Cons
a. Less versatile, it doesn't offer combination treatments like the above ones
b. Absence of advanced features like heat regulation
c. Offers limited frequency options
d. Makes larger noise
The Use and Maintenance of Weight Loss Cavitation Machine
Weight loss cavitation machines provide non-invasive but using the machine properly and maintaining it is crucial to maximize results, prolong the life of the device, and ensure overall safety.
How to use a cavitation machine
To use the cavitation machine:
a. Connect the cavitation device to the power supply and disinfect the probe.
b. Apply cavitation gel on the treatment area.
c. Adjust the energy levels and treatment duration.
d. Keep the probe close to the skin.

It is best to use the probe slowly over the treatment area in circular motions. Keep the machine on for 5 to 10 minutes, then remove the applicator and turn off the machine after ending a session.
Maintenance and Precautions
Always clean and sanitize the machine before and after using it.
Avoid using harsh chemicals to clean the equipment or probe. Store the cavitation machine in a clean and dry room when it is not in use.
Regularly inspect the electrical connections, plug, and other machine parts for any damage signs.
only trained and certified operators should run the machine
Final Thoughts
Cavitation machines are great tools for painlessly removing body fat and making the skin firmer. However, purchasing a suitable slimming cavitation machine requires carefully reviewing various factors to ensure treatment efficiency, client safety, and the machine's longevity.
By evaluating the machine's safety features, treatment efficiency, frequency range, cost, quality, and durability, you can purchase a suitable cavitation machine for your start-up salon.